About The Daring Way™
About Brené Brown
Daring Way™ Groups
The Daring Way ™ is a highly experiential methodology based on the research of Dr. Brené Brown.
I am a Certified Daring Way™ Facilitator (CDWF). The method was designed for work with individuals, couples, families, work teams, and organizational leaders. It can be facilitated in clinical, educational, and professional settings.
During the process we explore topics such as vulnerability, courage, shame, and worthiness. We examine the thoughts, emotions, and behaviors that are holding us back and we identify the new choices and practices that will move us toward more authentic and wholehearted living. The primary focus is on developing shame resilience skills and developing daily practices that transform the way we live, love, parent, and lead.
Further information is available at http://www.thedaringway.com.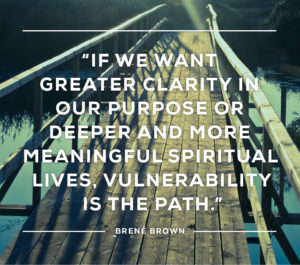 Dr. Brené Brown is a research professor at the University of Houston Graduate College of Social Work. She has spent the past twelve years studying vulnerability, courage, worthiness, and shame. Her groundbreaking research has been featured on PBS, NPR, CNN, The Katie Show, and Oprah Winfrey's Super Soul Sunday.  Brené is the author of the #1 New York Times bestseller Daring Greatly: How the Courage to Be Vulnerable Transforms the Way We Live, Love, Parent, and Lead (2012), the New York Times bestseller The Gifts of Imperfection (2010), and I Thought It Was Just Me (2007).
Brené's 2010 TEDx Houston talk "The Power of Vulnerability" is one of the top ten most viewed TED talks in the world, with over 14 million viewers.  Additionally, Brené gave the closing talk at the 2012 TED conference, where she talked about shame, courage, and innovation.
Further information is available at http://www.brenebrown.com
"The Power of Vulnerability"
As a Certified Daring Way™ Facilitator
, I offer the Daring Way™ in weekly group or weekend intensives formats in Bethesda, Maryland.
See what others are saying about the Daring Way™:
"The Daring Way intensive with Brooke Bralove is challenging, but most importantly it is an unbelievably effective vehicle for self exploration. Brooke is a masterful facilitator. She creates a safe and nurturing environment where you are encouraged to examine who you are and who you truly want to be. You leave the weekend feeling empowered and armed with the tools necessary to Show Up, Be Seen, and Dare Greatly."  -Mary J.
"I was told that the Daring Way weekend was going to be life-changing…and even with such high expectations, it blew me away. This weekend proved to be a forum of strength, support and solidarity that taught me how better to "show up" for myself and create a more meaningful life and more authentic relationships. Will cherish this transformative life experience.  Thank you Brooke!"  -Becca C.
"Thank you for an amazing weekend!  I feel energized and hopeful.  This Daring Way™ intensive has given me new 'tools' to use on my journey.  Going to that deep place of shame was scary but also a relief… to speak in a group of supportive, empathetic people was extremely helpful."  -Tina S.
"Brooke was an excellent facilitator who encouraged each of us to explore and confront our own vulnerabilities and shame. She made the effort to make sure each individual got the most out of the experience and provided meaningful feedback.  Although she was the facilitator, she interacted with the group in a way that made her just as much a participant as the rest of us"  -Sarah R.
Contact me to learn more about this work and to schedule your group or weekend intensive.  202.256.4646 or brookebralove@gmail.com.
Upcoming Daring Way ™ Groups
**MORE WEEKEND INTENSIVES AND WORKSHOPS COMING IN 2019**